So I've come to the end of my party ideas for kids. I have a couple more cake ideas to share with you as well as my party boards for all the inspiration you might need!
A few years ago my son wanted a race car themed party. On the day of the party it thundered and rained, so everything had to be moved indoors. For some reason I hardly took any pictures, apart from pictures of the guests and the cake, which is a shame, as it was a fun party! However, I do remember what we planned and how we set it out.
Firstly the cake. I used the Debbie Brown book where I had got the idea for the Dragon cake to make a Formula 1 style race car. You can buy a copy
here.
My son wanted a red car. Cutting the cake into shape was easier than I thought and it was a lot of fun putting it all together.
The cupcakes were simply frosted with a flag pick in each for the party guests to take home.
I purchased checkered flag picks, banner and balloons along with Cars the movie themed table ware.
Here are some similar items.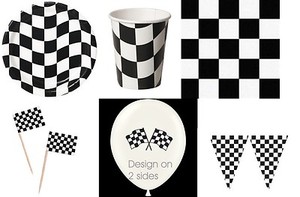 We set up the XBox on the projector and the kids could play Super Mario Kart. We also had an area set up in the front room with cars and a track.
In the kitchen I set up a craft area. The kids could make their own number plates. I purchased foam which I cut into rectangles (2 per sheet) as well as different patterned paper and card. I printed out on the back of these all the letters I would need for the party guests to make their name with. I carefully cut them out and placed them on the table with different embellishments, glue and glitter. The kids could then be let loose to create their own 'plates'. These made a great party favour. My son owned some Scalextric sets which we set up in his bedroom and play room. The kids were allowed 4 at a time on these sets so that things didn't get too crowded or out of hand! Spreading the party out over a few rooms meant that no one was waiting to play with something or all jammed in one spot.
___________________________________________________
I do like parties that are held at other venues though we have only done this once or twice. My son loves Lord of The Rings and he wanted a party based around it. We decided to use a local centre that did archery as a party with toasting marshmallows round a camp fire. All I had to do was theme the cake accordingly! I made a chocolate cake with marshmallow frosting. The marshmallow frosting was meant to be a filling for the cake but I decided to use it to decorate with. As you can imagine, it is a very sticky frosting, but gives a great sheen to the cake. This made it the ideal choice to make the Eye of Sauron! Thinned icing would also work for this cake.
I tinted the frosting in the right colours and began by frosting the cake with the red, smoothing it very carefully onto the cake and letting it drip down the sides. I then dolloped yellow in the middle and spread this out to meet the red. I then got orange and black and dolloped small amounts over the yellow. I took a toothpick and spread the frosting out so that it looked like burning fire.
On the sides of the cake I wrote in Elvish copied from the Fellowship of the Ring book. The cake was a huge hit and it was the quickest cake I have ever decorated!
______________________________________________________________
So there you have it. Lots of ideas to host your next party! I've got party boards for most of the themes mentioned in the series, along with a couple others set up when toying with ideas for my son and friends children. Check them out below!
Have a great weekend!
Follow InspiredUK's board Angry Birds Party Ideas on Pinterest.
Follow InspiredUK's board Farm yard party on Pinterest.
Follow InspiredUK's board Knights, Dragons and Princess Party on Pinterest.
Follow InspiredUK's board Spiderman party ideas on Pinterest.
Follow InspiredUK's board My little pony party ideas on Pinterest.